The fight among all major open-source blockchains is going forward. There is no denying that Solana (SOL) and Ethereum (ETH) are two prominent ones that interest investors the most. This article pops up things you should know before choosing your investments.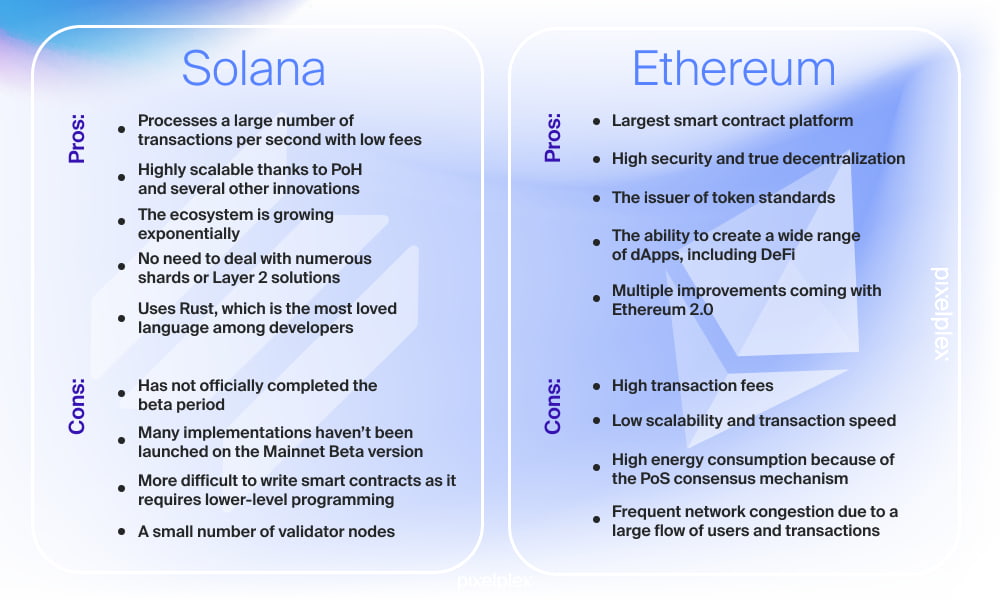 Is Solana More Decentralized?
In the blockchain battle, decentralization matters. The one who succeeds erase the power of authority could be the winner. Alas, Solana has limited decentralization than Ethereum.
Solana uses a unique mix of Proof-of-History (PoH) consensus and Proof-of-Stake (PoS) consensus, called a hybrid consensus. Solana relies on PoH to overcome the order of transactions in chronological order, plus PoS to validate new transactions with the power given to those who stake their funds. Solana is more centralized when 30 substantial influence validators control more than 35% of the total stake. The voting majority belongs to insiders who obtain a chance to shut down or restart the network if they want to. Unbalanced ownership allocations only benefit some worries the public. In reality, some Solana validators had begun censoring transactions, reports an independent Decentralized Finance (DeFi) rating organization called DeFi Safety. Solana Labs declined the claim and said the foundation has no power to censor any transactions.
On the other hand, the beginnings of Ethereum 2.0 or The Merge replace the updated network from miners to confirm transactions or Proof-of-Work (PoW) to PoS. If Solana and most PoS networks can run with a small set of validators, Ethereum needs larger, around 16,384 validators. Anyone is welcome to join the club by staking 32 ETH ($51,000), but like Solana, the Ethereum community worries validators' presence will lead collective ETH whales to collude and gain influence. The type of distribution where insiders just took a little of the token supply and the rest 80% for public participation put Ethereum aside from its competitors.
Is Solana Faster and Cheaper than Ethereum?
Solana's lack of decentralization comes with its consistency in fast and low-cost transactions. Solana can verify thousands of smart contracts unstoppable: up to 65,000 transactions per second (TPS). Ethereum 1.0 is left far behind with only 13-15 (TPS). Rumour spreads that the shift to Ethereum 2.0 might upgrade the speed to over 100,000 TPS. But the news confirmed the transaction speed is mostly the same on layer 1.
However, the facts above didn't challenge Ethereum's popularity. A million transactions are also conducted on the network daily. High demand affects the price of ETH moves together with the transaction fee.
Transaction fee, also called the "gas" fee, is the fee charged when transferring a certain amount of crypto coins to another wallet. More transactions recorded take more network of computers to perform the task, resulting in higher gas fees. Ethereum has an average of 3 Gwei ($0.09) per transaction. Ground sky difference​ to Solana offers nearly 0.0000053 SOL ($0,0000014) per transaction. Solana stays ahead as the cheapest in the blockchain since the Merge arrival won't reduce that price issue.
Is Solana More Secure?
Cheap offers undoubtedly invite investors to Solana's kingdom, but in terms of security, newcomer Solana is less secure than Ethereum.
Above $300 million was theft from Wormhole, a well-known cross-chain bridge that connects Solana and Ethereum. The incident was in February 2022—at the time of writing this—became the worst attack in the history of the Solana ecosystem, third in the DeFi world. Due to a loophole in smart contracts, an attacker exploited a bug related to Solana VAA verification. Smart contracts are the technology that allows transactions with no necessity for third-party. Though stolen funds had returned, the negative news quickly buried Solana's newly established empire by more than 13.5% the following day.
Solana isn't alone. The truth shows Ethereum was hackable as well. In 2016, Ethereum's community dealt with a bug in the code of DAO's (Decentralized Autonomous Organization) wallet smart contracts. Before the issue has fixed, an attacker drained $64 million to $101 million of ether. At that time, smart contracts were new technology. Ethereum was the first one to initiate the innovation.
Ethereum's prior turmoil forced the team to be more prepared. Days before the Solana attack, the man behind Ethereum, Vitalik Buterin, already reckoned the problem in a system—where smart contracts lie. The Russian-born Canadian called multi-chain the future and was pessimistic about cross-chain applications. His opinion was based on cross-chain bridge security vulnerabilities when transferring tokens or assets.
Currently, Ethereum is working on standards the security audits specification to ensure smart contract security. It becomes crucial post-merge because the PoS consensus made it riskier to get attacked than the last PoW. Buterin didn't seem to agree, implying that the threat will always haunt, just more costly to attack. The network possibly faces a majority 51% attack, yet, attackers would lose their collateral staked funds close to $15 billion.
Is Solana an Ethereum Killer?
Many people assume Solana has the potential to bring more fortune because it's the fastest-growing ecosystem in crypto. Solana's dominancy in fast transaction time and lower gas fees have attracted investors. An alternative for frustrated Ethereum's congested network and high prices.
Some others are optimistic with a $193 billion market cap, Ethereum will always lead as the second-most popular cryptocurrency. About 18,000 monthly active developers work on Ethereum. The scalability expansion plan to use sharding might make it superior. The new concept will split the data into manageable node partitions called Shards, helping reduce computational burden and improve the transactional speed.
In conclusion, the war has no winner yet. Both can't be perfect in scalability, decentralization, and security. Prioritizing one means sacrificing the other. Two rivals may end up in long-term battles for the throne of the best blockchain platform. Otherwise, they don't need to fight at all because they can coexist to build a better blockchain environment in the future.